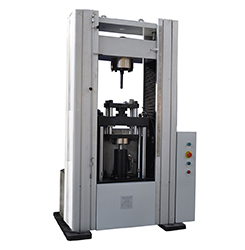 PT AM/NS INDONESIA is an ISO 9001-2000 and HSE Certified company with an objective of serving its Customers by providing High quality products and services, maintaining focus in improving product quality and customer satisfaction.
Testing Equipments
Emission are Spectrometer
Hardness Tester Rockwell
Tensiess Tester
Reflectometer
Lock Forming Machine
Atomic Absorption Spectrophotometer
Optical Microscope
The complete process of production of Cold Rolled steel involves stringent Quality checks ensuring the product parameters adhere to International standards and meet customer specifications. Standard Operating procedures and a regular check of process parameters at each stage of production maintains uniformity in the product parameters.
Our team of highly skilled Quality inspectors provides high standards of services, analyzing customer feedback and suggesting corrective process improvement.
With a state of the art Quality Inspection and testing laboratory equipped with standardized test equipment and skilled Quality Inspectors, PT Essar Indonesia is continuously improving and maintaining the Quality standards of the Products.
Emission Arc Spectrometer
The function of Emission Arc Spectrometer is to analyze chemical composition of steel. Its also could analyze 14 elements including nitrogen.
Rockwell Hardness Tester
The function of Rockwell Hardness Testes is to check hardness of steel ranging from 0.12 - 4.5 mm. It has superficial and regular scale. Scales than can be used are HRB, HRC, HR15T, HR30T, HR45T. HR15N, HR30N, HR45N
Vickers Hardness Tester
The function of Vickers Hardness Tester is to check hardness of steel ranging from 0.12 - 4.5 mm. The Load ranges than can be selected are from 1 - 20 kg, facilitating precision measurement.
Tensile Testing Machine
The functions of Tensile Testing Machine are to check yield strength, tensile strength, % elongation, r value and n value and yield point elongation, if any. Computer controlled equipment capable of testing up to 10 MT breaking load.
Erichsen Cupping Tester
The function of Erichsen Cupping Tester is to check the erichsen cupping value. The value between 0.4 - 2.00 range can be tested to evaluate formability.
Surface Roughness Tester
The function of Surface Roughness Tester is to check the surface roughness of the steel sheet. Parameter such as Ra, Rmax, Rz, Peak count, bearing area can be measured.
Reflectometer
The function of Reflectometer is to check the cleanliness of the steel surface by tape test.